Angapradakshinam in Tirumala: After a long break to Tirumala Angapradakshinam due to Covid-19, TTD board has restarted and allowing devotees to perform Angapradakshinam at the Srivari temple from April 2. We all know Angapradakshinam is one of the most important ritual in Hindu philosophy and many Hindu devotees in India take oath to do Angapradakshinam If their wishes fulfill.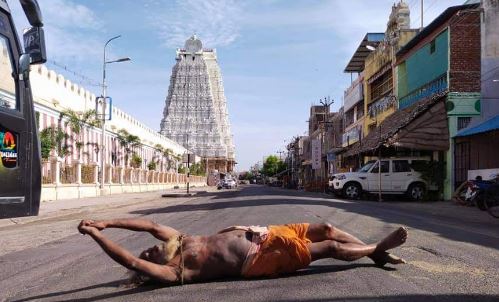 On this page we are going to see the complete details of Angapradakshinam in Tirumala, How to book Angapradakshinam tickets, Angapradakshinam Ticket Timings in Tirumala, How to book Angapradakshinam tickets offline in Tirumala, where to buy Angapradakshinam tickets in Tirumala Online and other details. So, completely check this page for more information.
Angapradakshinam in Tirumala: Tickets, Timings and more
Angapradakshinam tokens will be given to devotees who are interested to perform this ritual on Tirumala Hill. Interested devotees can buy the Angapradakshinam tickets at PAC-1 (Yaaara Sadan) from Afternoon 2PM. Every day only 750 Angapradakshinam tickets will be issued to the devotees.
The tickets will be issued everyday to the devotees at 2PM. But we recommend our blog readers to reach the counter at least 1 hour before. So, you won't miss getting the Angapradakshinam ticket. With Angapradakshinam token you will get Free Srivari Darshanam also along with a Free Laddu prasadam.
| | |
| --- | --- |
| TTD Seva | Angapradakshinam |
| Ticket Issue Time | 2 p.m |
| Total Tickets per Day | 750 |
| Angapradakshinam Reporting Time | 1 AM (Morning) |
| Free Facilities | Srivari Seva, Laddu Prasadam |
What is Angapradakshinam?
Angapradakshinam is a dharmic initiative where every part of the body touches the ground while doing this Pradakshinam on Tirumala floor. This shows our worship to Lord Venkateswara and to show our devotion to Lord Govinda in Temple premises, devotees will perform Angapradakshinam.
Devotees will perform this ritual in Tirumala starting with Angapradakshinam around Ananda Nilayam and then they will come out from Vendi Vakili after finishing the Pradakshinam. Then again they will enter the Temple through Maha Dwaram to get Srivari Darshanam. It means through Angapradakshinam token one can get a chance to enter the temple two times which is not possible with any other ticket.
How to Buy Angapradakshinam Tickets Offline?
If you are searching how to buy Angapradakshinam tickets offline, then you need to reach out to Yatra Sadan (PAC 1) which is near to CRO office at Tirumala. There you can get the tokens for Angapradakshinam for absolutely free. You no need to pay any money for Angapradakshinam tickets.
Tickets Counter : Yatra Sadan (PAC1), Near to Central Reception Office (CRO), Tirumala
Ticket Issued Time at C.R.O : 2 p.m, It is good reach by 1;PM at C.R.O Counter.
Total No.of Tickets to be issued : 750
Reporting place : Supadam, 1 am (Near Vaikuntam I queue Complex)
Pilgrims who plan to do Angapradakshinam Tirumala Temple, should stand in Queue at C.R.O office counter.
How to Report After Buying Angapradakshinam Tickets?
After buying the Angapradakshinam tickets at the counter, Devotees have to reach pushkarini to perform the Holy Bath. With wet clothes they have to report at Vaikuntam queue Complex 1.
Required Documents:
Devotees have to carry the Aadhaar card as their ID proof to get this ticket at the Angapradakshinam counter. The tickets will be issued to devotees for free. Only 750 tickets will be given every day except Friday due to Poorabhishekam.
Can I still get Angapradakshinam Ticket If I already have Sevadarshan (or) Special Darshan Tickets?
Yes, even you already have the Sevadarshan (or) Special Darshan (or) Sarva Darshan tickets you are still eligible to get the Angapradakshinam tickets.
Keep Reading: