TTD 300 rs Ticket Online Booking 2022: Tirumala Tirupati Devasthanam's is one of the prestigious Temples for Hindu devotees worldwide. Every year more than 3 Crore pilgrims visits Tirumala to offer prayers and to get blessings of Lord Venkateswara Swamy. The revenue generated from Tirumala Hundi is about Rs.300 Cr every month. Al these numbers will tell us how much is the Lord Balaji Temple is popular among the Hindu devotees.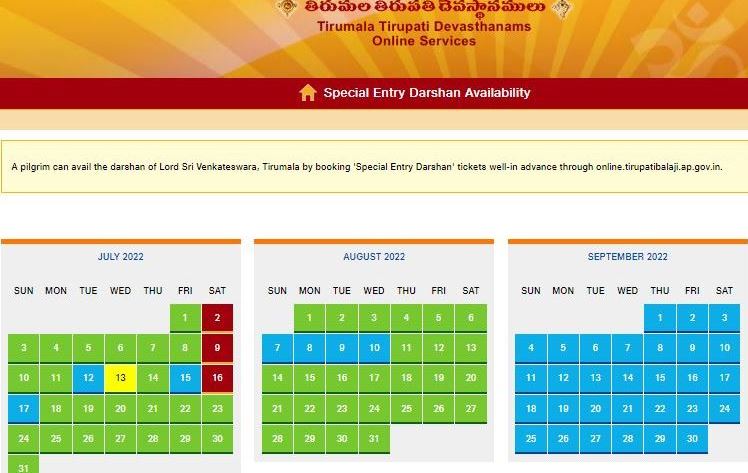 The Tirumala Tirupati Devasthanam offers both Free and Paid tokens to its pilgrims through Online and Offline modes. The 300 rs ticket is the special darshan ticket through which devotees can get access into the temples premises through the special queue lines. The Special Entry Darshan (Rs. 300) tickets for the month of July 2022 and August 2022 will be available for pilgrim bookings from 21.05.2022 09:00 Hrs. So, If you are searching for the TTD 300 rs Ticket Online Booking for July 2022 or TTD 300 rs Ticket Online Booking for August 2022, then you must check this page completely.
Booking: TTD 500 rs Ticket Online Booking
TTD 300 rs Ticket Online Booking 2022: Availability Chart, Timings
Tirumala Tirupati Devasthanam released tickets online for July and August months 2022 on May 21, 9:00 AM. A pilgrim can avail the drashan of Lord Venkateswara, Tirumala by booking "Special Entry Darshan" tickets well-in advance through online.tirupatibalaji.ap.gov.in.
Instructions:
At the time of entry, all pilgrims shall produce the same original photo ID used during booking. Age proof shall be produced for Children below 12 years to gain entry free of cost.
The pilgrims shall wear traditional dress only. Male: Dhoti, Shirt/ Kurtha, Pyjama, Female: Saree/ Half Saree, Chudidar with Dupatta
Pilgrims who book for darshan should bring the printed copy of their receipt
All the pilgrims in group ticket have to report together
The pilgrims should not carry any luguage, cell phones, leectric gadgets while reporting
All bookings are Final: Postponement/ Advancement/ Cancellation and Refund is not allowed
Entry with footwear is not permitted into the queue lines, mada streets and temple.
TTD reserves the right of cancellation of darshan under special circumstances
Please contact our 24/7 help desk for queries at 1800 425 333333 and 1800 425 4141
TTD 300 rs ticket online booking timings
The tickets are available 24/7 online until and unless they have been full booked by the pilgrims.
Darshan Tickets Not Released Dates:
The ttd 300 rs ticket online booking for July 2022 and ttd 300 rs ticket online booking for August 2022 are released now. But the Darshan tickets were not released for July 12,15,17 and August 7,8,9,10.
Darshan tickets have not been released online on August 7,8,9,10 due to the Thirumala Srivari festival.
Tirupati Kapileswara Swamy Pavitrostavam on 12th July, on 15th July 2022, Appalaya Gunta Prasanna Venkateswaraswamyvarla Puspa Yagam and on 17th July Thirumala Srivari Pushpa Pallaki Seva. So, tickets were not released for July 12,15,17
TTD 300 rs Ticket Online Booking Availability Chart:
TTD 300 rs Ticket Online Booking availability chart is open now. Anyone can directly visit the TTD portal to check the available slots for the months of July and August 2022.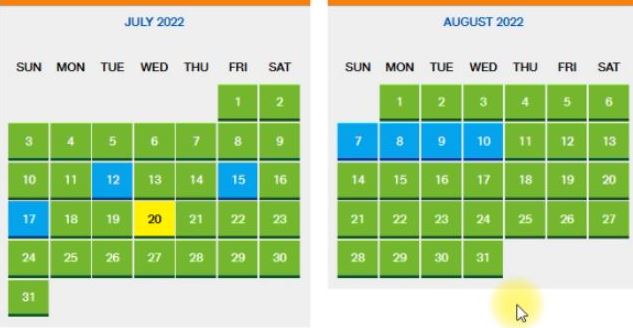 TTD 300 rs Ticket Online Booking Slots:
Slots are nothing but the timings that starts every 1 hour starting from the morning 10:00 AM. That means TTD releases some no.of tickets for each and every 1 hour slot. In every slot more than 2400 devotees are allowed for darshan.

What If I am Getting An Error While Booking 300 Rs Ticket?
If you are facing any error or trouble while ttd 300 rs ticket online booking, then you should change the mobile number first and apply again. Because sometimes TTD portal displays an error message stating that you have already booked ticket. This happens because that mobile number already used for room booking or any other service booking in TTD.
Can I Book Laddus on Special Entry Darshan Ticket?
Yes, You can book any no.of extra Laddus on the special entry ticket Darshan. Each Laddu costs Rs.50/- and the amount should be paid online.