Hamsaladeevi Temple Timings: Hamsala Deevi Sri Venugopala Swamy Temple is an ancient Lord Krishna temple located in Koduru Mandal on the banks of Krishna River. Hamsala Deevi temple comes under the constituency of Avanigadda of Diviseema in Krishna district. The site gets very crowded on festival days such as Karthika pournami and Krishna Pushkaralu.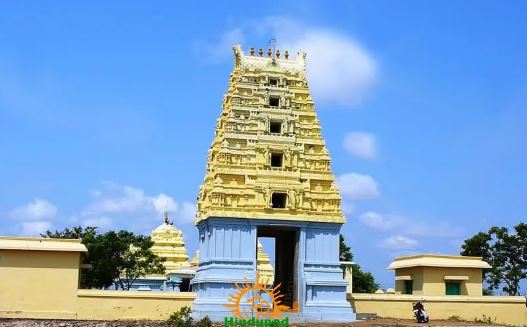 Tourists come to Hamsaladeevi from different places to see the beauty of "Sagara Sangamam" and take the blessing of Lord Venugopala Swamy. Local language spoken at Hansaladeevi is Telugu. Krishna River branches out as Pulleru at Puligadda and travel for around 20 km and empties into the sea at Hamsaladeevi – Palakayatippa. The river near Hamsaladeevi is very deep and wide. Those planning to visit this ancient temple at Hamsaladeevi can also include the nearby Mopidevi Temple in their travel list. Both, these temples can be covered in a single day.
Hamsaladeevi Temple History:
Sri Venu Gopala Swami temple at Hamsala Deevi Village is one among the 180 sacred Vishnu Temples in India. Lord Venugopala Swamy is seen with his consorts Rukmini and Satyabhama in this ancient temple. The temple is just 0.7 km away from Hamsaladeevi village in Diviseema Krishna District of Andhra Pradesh. Hamsaladeevi is also called as "Swan Island". The temple is located on a sacred place where one branch of Krishna River merge into Bay of Bengal.
Hamsaladeevi Temple Timings:
Main Deity: Lord Vishnu
Best Time to Visit: Any time
Temple Timings: 6.00 a.m. to 1 p.m & 4.00 p.m. to 7.00 p.m. (Monday to Sunday)
Entry Fee: Free
Visit Duration: No Time Limit
Nearby Places:
Koduru (10 km)
Avanigadda (24 km)
Machilipatnam (26 km)
Mopidevi (28 km)
Repalle (32 km)
Tenali (75 km)
Vijayawada (86 km)
Ongole (153 km)
Guntur (97 km)
Hyderabad (360 km)
Popularity:
The place has become tourist attraction and as well as much suitable place for movie shootings. Jaya Janaki Nayaka interval block was shot in Hamsaladeevi along with other couple of movies like Balakrishna's NTR Kathanayakudu.