Tirumala Free Accommodation and Lockers Facility: TTD is the only temple across the globe that offers free facilities including Food, Accommodation, Transport and Lockers for taking care of your things also. Every year TTD spends crores of money in providing all these facilities to the devotees from various places of India. Today we are going to see How to get Free Accommodation and Lockers in Tirumala? Whay are you waiting? take a look into the complete article.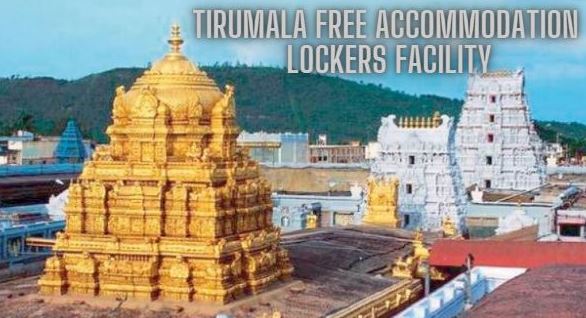 When you suddenly visited Tirumala and out of money, you might not know where to stay and how to secure your things right. Sometimes we might face these kind of situations. Seeing this the TTD board has implemented various free facilities for all the devotees who comes from various places across the globe. Using these free facilities you can get free accommodation and free locker facility when you visit the Temple for Srivari Darshan.
Tirumala Free Accommodation and Lockers Facility
TTD board is providing the free accommodation and locker facility through the unique software called Locker Allotment System which is computerized to allocate the tokens to the devotees. Using the Live Screens presented in the building, you can get to know what are the available free lockers to the devotees.
The free locker facility in Tirumala is available for only 24 Hours. During this time Devotees can stay in the locker building and they are provided with Mat and a Bed sheet to sleep on the floor along with the Lock/Key. When devotees leaving the building compound after 24 Hours of time, they have to surrender the Lock/Key, Mat and Bed Sheet to the officers in duty.
How to get Free Lockers in Tirumala?
There are 4 places where you can get Free Lockers in Tirumala. They are as follows.
Madhava Nilayam Building (PAC 2)
Padmanabha Nilayam Building
Yaatri Sadan
Yaatri Sadan (PAC 1)
Tirumala Free Accommodation Facilities
Below are the Tirumala Free Accommodation Facilities available for devotees.
Free Locker for Securing Things and Laguage
Mobile Charging Facility
Free Mat and Blanket to take rest
Washroom Facility
Free Water and Bathing Facility
Required Documents:
In order to get the free locker facility in Tirumala, Devotees have to carry the documents below.
Devotees must and should carry Aadhaar Card or Voter Id Card to avail the free locker facility
How Long Can I Get Free Accommodation in Tirumala?
Devotees can get 24 Hours of Accommodation for free in Tirumala on one Id proof.
Can I get for more than 1 Day Free Accommodation?
Based on your situation and availability of free lockers, after talking with the Receptionists, you can get extended free accommodation on your ID proofs.
Keep Reading: