How to Use TTD Mobile App: Govinda App, the Tirumala Tirupati Devasthanams android app provides services to devotees who wants to visit the Lord Sri Venkateswara Temple at Tirumala. Using this app, a pilgrim can avail various services like Darshan, Accommodation, Special Entry Darshanam, Hundi, Sevas and he or she can be involved in various trusts and schemes that are part of Tirumala Tirupati Devasthanams. So, pilgrims who are looking for TTD mobile app, simply go through the below sections of this page.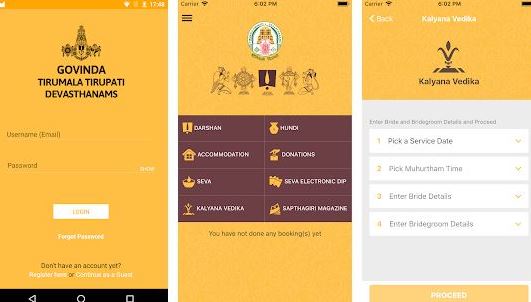 In terms of using and implementing technology to serve the devotees, TTD board is always a step ahead. The Govt of Andhra Pradesh approves all the independent decision makings to the board members. Every day thousands of people comes to Tirumala and the count will be in Lakshs during the special events and festivals. So, In order to provide the best services, TTD board made everything Online. Example: TTD board has not stopped drashan's to devotees even in corona time, they have provided virtual sevas to citizens through online. In the same way, TTD board has an App that is currently available in Play-store and iOS devices.
Read: Alipiri Steps Mettu Margam
How to Use TTD Mobile App?
As teh temple attracts millions of pilgrims every year, it is difficult to rely on Offline mechanism. So, Online portals and Online Apps reduced the work load by providing the darshan tickets, Arjitha Sevas, Rooms and Accommodation facilities. The official TTD Website for online tickets purchasing is www.ttdsevaonline.com. Recently for devotees facilitation TTD board has also launched Govinda Mobile application as well.
How to Download TTD Mobile App "Govinda"?
Devotee who are willing to avail TTD online services are advised to download and install the mobile application from Play Store or IOS App Store for free. Search for Govinda Mobile app in play-store and you may find it. Adnorid Users need to have 5.0 OS version or higher while the iOS Users need to install from Apple Store and has 8.0 OS version or higher.
Download Govinda App: Click Here
How To Sign In TTD Govinda App?
If you want to sign in the TTD Govinda app, follow the below procedure. The new App aims to provide pilgrims with better user experience in availing the Services. Pilgrim registration with valid e-mail ID is a prerequisite for booking of Seva/Accommodation/Darshanam . Registration OTP will be sent to the registered mobile number for verification & activation. Please complete all this process well in advance to avail online services.
Sign up for a TTD User login if you not have one.
If you are a new TTD User, then click on registration button
Also, you can navigate through the app as a Guest
What Facilities Available in Govinda App?
Using the Govinda App provided by TTD board, you can avail the following services.
List of Online Services available in Govinda Tirmala Mobile application:
Accommodation
Special Entry Darshanam
300 Special Entry darshan booking,
Accommodation and Rooms, Guest houses booking,
Tirumala Marriages via Kalyana Vedika,
Hundi Donations in Srivari Corpus Hundi,
TTD Arjitha Seva Electronic Dip,
Buy or subscribe for Sapthagiri and Publications.