Raghavendra Swamy Aradhana 2022 Dates: The 351st Aradhana Mahotsav of Sri Raghavendra Swami will be held at the mutt in Mantralayam in Kurnool district of Andhra Pradesh from August 10 to 16, 2022 as per some available sources. The annual religious and cultural programmes for seven days will be held in the mutt while ensuring adherence to COVID-19 guidelines.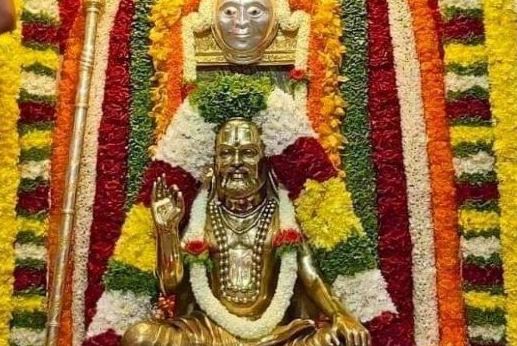 The very first day of the Raghavendra Swamy Aradhana will see flag hoisting. Following this, other religious programmes such as Rajat Mantapotsava (August 11) and Madhya Aradhana (August 13) will be held. Check out the tentative schedule of Sri Raghavendra Swamy Aradhana 2022 Dates.
Read: Tirumala Free Accommodation and Lockers Facility
Raghavendra Swamy Aradhana 2022 Dates (tentative schedule)
Tirupati Tirumala Devastanams (TTD) officials will offer Sesha Vastram to Sri Raghavendra Swami from the Sri Venkateswara Temple on Tirumala as part of the Aradhana during the Madhyaradhane. Rathotsava will be held during Uttararadhane. Aradhana of the previous peethadhipathi Sri Sujnanendra Tirtha will be held and on the final day special pujas will be held to conclude the week-long programmes.
Devotees who are participating in the Raghavendra Swamy Aradhana 2022 can get all the facilities, including shelter, drinking water facility and food. All other sanitary requirements also have been made available for devotees coming from various parts of Andhra Pradesh, Telangana and Karnataka.
Raghavendra Swamy Aradhana 2022 Dates
Below is the tentative schedule and Sri Raghavendra Swamy Aradhana 2022 Dates.
August 10, Wednesday – Dwajarohanam, Pradhanotsavam , Lakshmi Puja, Dhayanotsavam, Prabha Utsavam.
August 11, Thursday – Sakotsavam, Rajitha Mantapotsavam.
August 12 , Friday – Sri Guru Raghavendra Swamy Purvaradhana , Simha Vahana seva.
August 13, Saturday – Madhya Aradhana , Visesha Phala Panchamrutha abhishekam, Puspha alankarana seva, Gaja- rajatha-Swarna Rathotsavam.
August 14, Sunday – Sri Guru Raghavendra Swamy Uttara Aradhana, Maharathotsavam.
August 15, Monday – Sri Sugnana teerthula Aradhana, Aswa Vahanaotsavam.
August 16, Tuesday – Sarva Samaropanotsavam, Sri Guru Raghavendra Swamy Maharathotsavam.
In all other Sri Raghavendra Temples worldwide, aradhana will be held from August 12 to August 14 2022.
Sri Raghavendra Swamy History:
Sri Raghavendra Swamy was born as the second son of Gopikamba and Thimanna Bhatta in the year 1595. The great saint who was hailed as the incarnation of Prahalada, the great bhakta of Lord Maha Vishnu, was born in the Mrighashirsha Nakshatra at Buvanagiri which is in the present day Tamilnadu.
Keep Reading: