YSRCP Navaratnalu List: The Navaratnalu (the 9 Gems) of YS Jagan Mohan Reddy Govt laid foundation stone for the new model of governance in the AP state in 2019. With these 9 set of schemes Jagan has started ruling the AP govt from the last 3 years. Touted to be the welfare schemes, Navaratnalu are the driving forces of AP govt for a better society. The schemes main motto is to uplift the poor people and drive them to enter into the better life.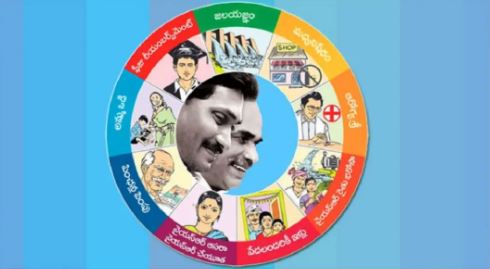 Navaratnalu are the AP Govt schemes which aims to drive the Govt and to elaborate model of governance. The schemes are the Welfare schemes mainly targeting the Middle Class and Poor People with White Ration Card. According to YSRCP Party, all these schemes will be issued to eligible poor families irrespective of parties, cast, religion, category.
The nine Navratna Welfare Schemes are as follows.
YSR Rythu Bharosa
AP Fee reimbursement
Aarogyasri
YSR Jalayagnam
Ban on Alcohol
Amma Vodi
YSR Asara, YSR Cheyuta
Housing for all poor
Pensions – Enhancement
#1 YSR Rythu Bharosa:
YSR Rythu Bharosa is one of the popular Jagan's scheme which provides financial assistance for Farmers for each crop. With this scheme Every farmer in the state of AP will be be provided Rs 50000 financial assistance. For crop sowing farmers to get Rs 12500 in the month of May itself. Also, farmers are no need to pay the crop insurance from their pockets. Instead the Govt will pay the Insurance as well.
#2 AP Fee reimbursement
As mentioned in the heading Fee Reiumbursement means providing the full fee opus to the students who are pursuing higher studies like B.Tech/B.E, M.E/M.Tech. MCA and other higher level studies. Rs. 20,000 per student per annum to be provided in addition to fees reimbursement, boarding and lodging.
#3 Aarogyasri
Aarogyasri is first introduced in India by the AP state only during the tenure of YS Raja Sekhara Reddy, the father of YS Jagan. Now Jagan has took it as a challenge to provide the free medical facilities to the poor. YSR Aarogyasri cover for all categories with annual income less than Rs. 5 lakh. Moreover, Aarogyasri scheme is applicable for all medical expenses above Rs. 1000/-. It means if the medical bill is above Rs.1000/- white ration card holders are no need to pay anything to the hospitals.
#4 YSR Jalayagnam
YSR Jalayagnam aims to complete all the water projects in the state of AP. Polavaram, Poolasubbayya, Veligonda and other uncompleted projects comes under this scheme.
#5 Ban on Alcohol
We all know India is suffering from Alcohol addiction. Here large groups of people daily spends more than half of their daily wages to drink alcohol. Jagana during the election campaign promised that he will ban alcohol in three stages after forming the Govt.
#6 Amma Vodi
We all know Indian Mothers from poor families always worry about their children education. But in the state of Andhra Pradesh mothers need not worry anymore. A Financial assistance of Rs. 15,000/- given to mothers for children education.
#7 YSR Asara, YSR Cheyuta
0% interest loans will be issued to the women who are seeking loans from various cooperative banks. With this scheme, Rs. 75000 loans to be granted to women above 45 years age of BC, SC,ST and minorities through various corporations as YSR Chevuta.
#8 Housing for all poor
We all know many families in India still staying in the Indian traditional Paka Houses. Housing for all home less poor families irrespective of parties, cast, religion, category. With this scheme 25 lakhs houses to be constructed in 5 years to the poor.
#9 Pensions
AP Govt will provide Rs. 3000/- pensions for Differently abled persons and Senior citizen pension to be gradually increased to Rs. 3000/-. Also, the pension age limit to be decreased to 60 from 65 years.
More than 80% of the schemes have been fulfilled by the AP Govt in the 3 months tenure. Sensitive schemes like Ban on Alcohol and Polavaram Project are yet to be implemented fully. AP Govt promises taht they will implement all the schemes within the time frame.
No, YSR schemes are the Five schemes while YS Jagan has come up with the 9 schemes by adding on top of the YSR Schemes. Read here for YSR Schemes List
A total of 9 schemes will come under Navaratnalu created by the AP CM Jagan Mohan Reddy.