TTD Parakamani Seva Online Booking: The process to apply for TTD Parakamani Seva, its application form, who can apply, Booking slot and other details are available on this page. So, we advise all our TDD Sevaks to go through this complete page to know more details about the TTD Parakamani Seva. As of 2022, About 250 approved applicants enters the temple premises through the biometric gate to attend parakamani seva on daily basis. Moreover, 300 bags of coins are shipped out after completing the calculation process.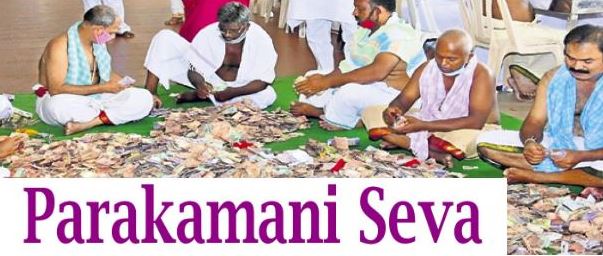 In order to make this process fair and without any disturbance, the TTD board has now allotted separate Hall to the TTD Parakamani Seva Employees. If you are searching for the TTD Parakamani Seva Online Application Form, TTD Parakamani Seva Booking, TTD Parakamani Seva Slot Availability, then don't miss this page.
TTD Parakamani Seva Online Booking, Application Form
Till 2020, The Parakamani seva is organised in a very limited space and narrow hall inside the temple which also created a lot of disruption to the movement of the darshan lines. Now after allotting a separate Hall to the Parakamani duty, Sevaks are also feeling comfortable. If you are looking to take a part in the TTD Parakamani Seva Online but don't know hot to participate, then take a look into the below sections of this page.
Today We make it simple How to participate in the TTD Parakamani Seva, How to get the Online Application Form, How to book slot and how to check the slot availability. So, don't miss this page and make sure you pass all the eligibility criteria before applying for this TTD seva online.
Srivari Mettu: Steps Count, Opening Timings
Who Can Apply for TTD Parakamani Seva Online?
We all know that TTD Hundi receives more than Rs.300 Cr every year from the Devotees only in the form of money and Jewellery. Sometimes TTD also receives foreign currency in crores of rupees. But TTD does not have any permanent employees to count all these money. This special privilege will be given to devotees belonging to the public sector banks, Private Sector banks, Central Government or state government employees.
Devotees have to follow the uniform code as prescribed by the TTD board. Uniform or dress code for Seva Participation is White Vesti or Panche. Devotees must report with their booking receipt at Srivari Seva Sadan 2 situated opposite varaha Swamy Resthouse in Tirumala. Parakamani Sevaks are allowed for sarvadarshan from main entry gate on the last day of the service. Devotees in Ayyappa Mala, Govinda Mala or any other deekshas are not allowed for participation.
Eligibility Criteria:
Only Hindu Devottes are Eligible to count the Hundi
Only Male devotees are allowed
Online Application registration is compulsory for Parakamani Seva Participation.
Sevaks should not have any health problems
Age should be between 35 years to 60 Years.
Each Sevak must produce and bring Aadhar card, Employee ID card
How to Apply for TTD Parakamani Seva Online?
Sevaks can apply for Parakamani seva before 8 Days advance and they are not allowed to perform again within 90 days of previous performance. Keep all your documents handy and apply for Parakamani Seva online through srivari seva portal with registration details.
TTD Parakamani Slot Availability
First applicants interested need to visit srivariseva.tirumala.org website and select the availability button.
Next choose the service area or Seva name (In this case Parakamani Seva).
Proceed to selecting the type of employee. Choose between Public Sector banks or Private Sector Banks.
Read the booking rules and check whether you are eligible to appear or not.
Register your login in Srivari Seva portal or check this SRIVARI SEVA USER REGISTRATION page for more information.
Now proceed to choosing the time slot and date you want to appear.
Available dates appear Green on the calendar of each month for upcoming three months on the screen.
TTD Parakamani Seva Online Booking Process
Login in srivari seva portal with registration details.
Now update your profile with employment, address, communication, personal and Identification details.
If the eligible criteria is met to book with Srivari Parakamani Seva, The page will be accessible for you.
Now select one appropriate date you want to perform the seva and choose the duration 3 days or 4 days.
Finally confirm your applicant details along with employment details. Upload scanned copies of documents which ever are prompted.
Now finally confirm the submit button for generating the booking receipt. Srivari Parakamani Seva is booked in your registered details.
Batch Timings:
Two time slots are allowed for 3 or 4 days service. Batch A starts from 7 AM to 10 AM & 1 PM to 4 PM, Batch B starts from 10 AM to 1 PM & 4 PM to 6 PM.
FAQ's:
What is Parakamani Seva?
Parakamani Seva is the process of counting and sorting of the cash offerings deposited by the devotees into the temple Hundi.
Does Parakamani Seva is Safe?
Yes Parakamani seva is safe. The Parakamani seva building covered with bullet-proof glass from all the sides enabling devotees witness the entire process of sorting, counting and handing over of the proceeds to the designated bankers. The interesting feature is that the entire proceedings will be under the watch of public eye giving no room for any kind of pilferage.
When will be Parakamani Seva quota for month of June 2022?
Parakamani Seva quota for month of June 2022 will be released on 16th May 2022 at 11 AM. Sevaks applying for Parakamani Seva are hereby instructed to go through the TTD instructions before applying.
How to Book Parakamani Seva online?
You can apply for Parakamani Seva online through srivari seva portal with registration details.
Keep Reading: