SBI e-Mudra Loan: We all know getting a small amount loans has become one of the major headaches to common people. Even there are a lot of apps that are providing loans to individuals, If we don't repay the EMI they will keep us in trouble mentally. So, here we have come up with the best solution that is Pradanamantri e-Mudra Loan from SBI which provides Rs.50,000/- loan to the common people who are in the need.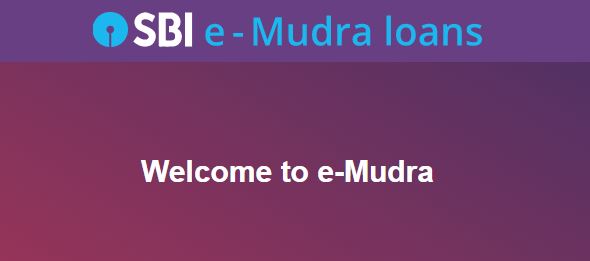 All the existing customers sharing relationships with SBI in the form of Savings Account or Current Account (Individual) can apply for an e-MUDRA loan of amount Up to Rs. 1,00,000 by visiting the SBI e-mudra portal and following the below-mentioned steps:
How To Apply for SBI e-Mudra Loan?
The maximum loan amount offered by the SBI bank through this scheme is Rs. 1 lakh. The maximum repayment period is up to 5 years. Individuals can get upto Instant loan availability of Rs. 50,000 after only the bank conditions are met. For loan amount of above Rs. 50,000, an applicant needs to visit SBI' nearest bank branch to complete the loan formalities.
Before going further, please check the Eligibility Criteria and required documents to process the loan.
Eligibility Criteria:
To avail Mudra loan from SBI, you must meet the following eligibility criteria:
Must have maintained SBI's current or savings account for at least 6 months
Your Aadhar Card must be linked with the PAN Card and Mobile Number
Your SBI Bank Account should be linked with PAN Card
Documents required for SBI e-Mudra Loan
Duly filled application form with passport-sized photographs
KYC documents of the applicant: Passport, Voter's ID card, Aadhar Card, Driving License, PAN card
Details of Savings/Current Account number and branch
Proof of Business (Name, Start date & Address)
UIDAI- Aadhar Number (should be updated in A/c Number)
Community details (General/ SC/ ST/ OBC/ Minority)
Other information for uploading like GSTN & UDYOG Aadhar
Proof of Shop & Establishment and business registration
Any other document required by SBI
SBI Mudra Loan Eligibility
Applicant must be engaged in a non-farm income-generating activity, either in manufacturing or in the services sector
The applicant should be residing at the same location for at least 2 years
SBI e-Mudra Loan Categories
Below is the SBI e-Mudra Loan categories
Loans upto Rs.50,000 are categorised as SHISHU
Loans from Rs.50,001 to Rs.500,000 are categorised as KISHORE
Loans from Rs.500,001/- to Rs.10,00,000/- are categorised as TARUN
Repayment Period for Rs.50000 Small Loan
WC/TL: in 3 – 5 yrs including a moratorium of upto 6 months depending on the activity/ income generation.
sbi e mudra loan interest rate
SBI E-mudra loan interest rate varies from 8.40% to 12.35% depends on the category of the loan.
Processing Fee and Charges:
Shishu and Kishor- Nil Tarun: 0.50% of the loan amount + taxes