Kabbalamma Temple Timings: Sri Kabbalamba temple is located at Kabbalu village, Ramanagara district in the state of Karnataka. Goddess Kabbalamba is an incarnation of Goddess Parvathi. The deity present in Kabbalu Punyakshetra has four hands, holding divine weapons like knife, bow with damarukam, small pot. Nandi Temple is located adjacent to Shree Kabbalamma Temple.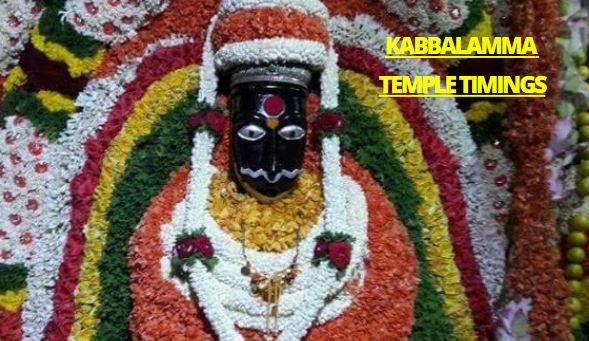 Pilgrims who comes to Kabbalamma Temple also conducts special prayers to Nandi. Within the temple premises, Lord Ganesh is also offering blessings to devotees. Sri Ganapthi Devasthana is located left to Sree Kabbalamma inside the temple. On this page we have come up with the Kabbalu Punyakshetra Kabbalamma Temple Timings. So, check thoroughly to get all the details about the temple like its timings, distance and history of the temple.
Kabbalamma Temple Timings – Kabbalu Punyakshetra
Kabbalamma temple has gained the popularity over the years and it is now the most visited place in Karnataka during the new year to get the blessings of local goddess Kabbalamma. From Politicians to Celebrities, everyone shows interest to visit this temple during the New year and Festival time. If you are also planning to visit the Kabbalamma temple in the near future, go through the below sections of this page.
Kabbalu Jaatre will be celebrated every year on the last week of Magha Maasa. During the annual jatre thousands of pilgrims climb the Kabbalu Durga to Worship Sree Kabbalamma. People who believe they are going through irregularities or unusual activites in their daily life, come for Dristhi Nivarana. Tade Seva is conducted in Kabbalu Punyakshetra to give nivarana for the Pilgrims. Check out the Kabbalamma Temple Timings and other details on this page now.
Kabbalamma Temple Timings
The temple timings of Kabbalamma Temple are as follows.
6.00 am to 10.00 am
4.00 pm to 8.00 pm
1.00 pm to 2.00 pm – Maha Pooja (Sunday & Wednesday)
Saturday & Sunday – 5.30 am to 8.00 pm
How to reach the Kabbalamma Temple?
7 kms from Sathanur
23 kms from Channapatna
33 kms from Ramanagara
81 kms from Bangalore
Popular Hindu Temples in Surroundings
Heligehalli, Sri Thayimudamma Temple – 26 kms
Kallahalli, Srinivasa Swamy Temple – 29 kms
Marale Gavi Matta, Sri Shivayogi Muneshwara Swamy Temple – 21 kms
Shivanahalli, Veera Bhadra Swamy Temple – 18 kms
Doddamallur, Sri Rama Aprameya Swamy Temple – 25 kms
Thirumale, Sri RanganathaSwamy Temple – 66 kms
Magadi, Sri Someshwara Swamy Temple – 69 kms