Alipiri Steps Mettu Margam (Lord Balaji Steps Way (or) pathway route) is one of the two ways to Tirumala from Tirupati. Devotees chooses this way mostly to reach the Lord Venkateswara Swamy Temple on Tirumala Hill. Every day more than 10,000 devotees would reach Thirumala through this route while the no.of pilgrims increases upto 25,000 on special days.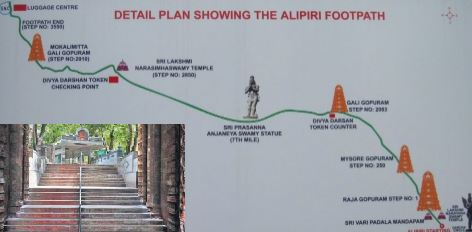 The Alipiri – Tirupati Gaaligopuram way which consists of about 3350 steps and close to a walk of 11 kilometers on road through forests. Here we have come up with the complete details of Alipiri Steps, Alipiri Steps Count, Srivari Mettu Opening Timings, Distance and more.
Alipiri Steps | Alipiri Mettu Margam
Alipiri Mettu is the pathway route considered the trekking route to Tirumala. Most of the Hindu devotees prefer to reach Tirumala from Alipiri Mettu (steps way) even though it is longer than Srivari Steps way because of the vow they have taken.
The Alipiri Steps way is the best way to reach Tirumala because here you can fell the nature along with small animals like Monkeys, Peacocks, Deer's, etc. On the way to Tirumala from Alipiri, you can find many temples like Sri Vari Padalu, Hanuman Temple, Akkamagarlu Temple ( 7 Sisters) and Dashavatharalu (10 idols of Vishnu).
Alipiri Mettu Margam Timings
Alipiri Mettu opens in the morning 4.00 am closes in the night 10:00 pm. After that no one will be allowed except the security. Since it is a Forest Hill area, it is not safe to travel in the night time. So, make sure to reach the Alipiri Steps within the time.
How many steps in Alipiri?
The Pilgrims who will wants to fulfill their wishes and Vow to Lord Balaji will take this path to reach Tirumala on foot from Tirupati. The Alipiri Mettu consists of a total 3350 Steps which makes a distance of 11 km.
Alipiri Steps Distance:
As said earlier, The Alipiri Mettu margam consists of a total 3350 Steps which makes a distance of 11 km. To reach the Alipiri from Tirupati, you have to take a bus from Tirupati Bus Stop ot Railway Station, which is at a distance of 3 kms. From Alipiri Steps it is 11 km to reach Tirumala, devotees prefers to walk from here.
FAQ's
How to Reach Tirumala?
Theer are two ways to reach Tirumala, One is through Alipiri Steps and the other is through Srivari Steps.
What is the Distance from Alipiri Mettu to Tirumala?
The distance from Alipiri Mettu to Tirumala is 11 KM. You have to climb 3350 steps to reach Tirumala.
How much time it takes to climb tirumala from Alipiri?
By walk from Alipiri Mettu to Tirumala, depending on the physical fitness of the person, it will take minimum 3 hours and maximum 6 hours and above. An active person can reach Tirumala not more than 4 Hours.
What are the Timings of Alipiri Mettu?
The route is opened from 4 Am-10 PM every day.
How to reach Alipiri Foot Path?
Alipiri Foot path is just 3 km away from Tirupati and a free bus service is also available starting from Tirupati Railway station.
Which is the shortest way to reach Tirumala?
Srivari Mettu is the shortest way to reach Tirumala when compared with Alipiri Steps way.
Does Alipiri Steps Way Has Security?
Yes, TTD board has appointed security personnel in the beginning of Alipiri Mettu and they will scan you as part of their security measures.
Can I Buy Water and Food Bottles in Alipiri Steps Way?
Yes, TTD board has allowed many shops and many people will sell Bottles and Food items in the Alipiri steps way. So, you no need to carry food or water. Also, you can get free medication in case of emergency or in need.
Keep Reading: