Vikram Movie Review and Ratings: It is very rare to see the most talented actors of Cinema on the screen. If it happens, It would be the Eye feast for the audience and Fans. Vikram is one such film with rare combination of actors like Kamal Hassan, Suriya, Vijay Sethupathi and Faahadh Faasil. In the last minute Suriya has taken up this project and agreed to act in a key role.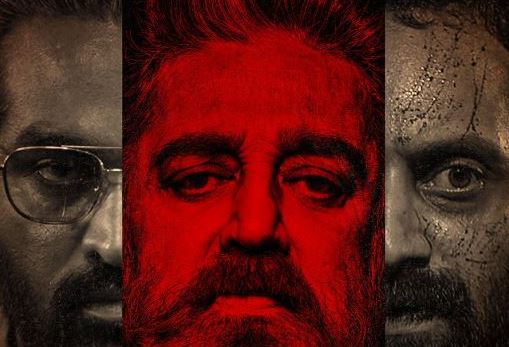 Lokesh kanagaraj who is popular of consecutive Hit movies in Kollywood like Master, kaithi, Maa Nagaram is now coming with a Dark Crime Thriller called VIKRAM(2022). The movie is releasing in almost all Indian languages on June 03, 2022 including Tamil, Telugu, Malayalam, Kannada and Hindi. Let's have a look into the Vikram movie review and ratings now.
Vikram(2022) Movie Review and Ratings
The film is helmed by director Lokesh Kanagaraj of Master fame, and bankrolled by Raaj Kamal International Films. The film also features actors Kalidas Jayaram, Narain, Antony Varghese and Arjun Das in supporting roles. Besides Vijay Sethupathi and Faahadh Faasil, Actor Suriya has also been roped in for a cameo role in the film.
Movie Story:
The film revolves around the story of serial killings. An investigative officer assigned to put an end to the real culprits. It is an action crime thriller, it's also a film which sucks you into its world and makes you uncomfortable, angry, desperate and then, leaves you with a tinge of hope. Maybe, that's the whole point of the film.
Review:
Lokesh kanagaraj is known for Action Thrillers, His last two movies in the same genre, (Maanagaram and Kaithi), have become biggest blockbusters while Master is a commercial entertainer.
While the film's narrative and top-notch performances by the ensemble cast are wonderful, what's even more remarkable are Girish Gangadharan's cinematography and a stunning sound design throughout the film.
Vikram is a film which tries to explore the conflict between the characters when the main character of the film finds some of the clues in the case of serialkillings. Also, it brushes this aspect of the story to make way for what it wants to achieve. The main focus of the Vikram(2022) is to see how far someone would go before they break down and how do they fight back once they reach that point.
Vikram Movie Rating:
Vikram is easily one of the best films in Kamal Hassan's career and it makes you wonder what had happened to him to see a Hit at Box Office, its been many years after his last super hit film. Vijay Sethupathi and Faahad Faasil too nail their performances. The movie released as a multilingual film in Tamil, Telugu, Malayalam, Kannada and Hindi languages. Indian superstar Kamal Hassan is back to form with VIKRAM. VIKRAM is a movie that will entertain all groups of audience. We can say VIKRAM is a solid hit at Box Office in 2022.
Vikram Movie Rating: 4/5
Note: This Review and rating is based on the analysis of the Overseas Censor Board Members.
Keep Reading: