All Time Highest TRP Ratings of Telugu Movies: TRP stands for Television Rating Point. According to Television Media and marketing terms, this metric used by advertising professionals to know the target audience impressions of an advertisement campaign that was done through a TV program, that would be a Serial, Movie, Reality Show, Live News and others.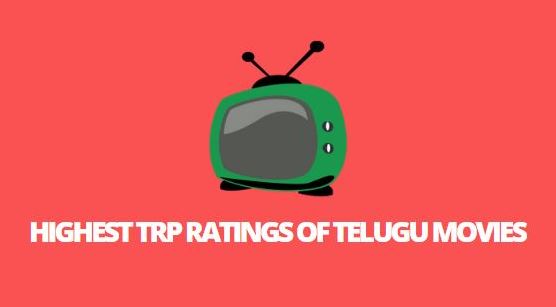 But the definition of this TRP rating is wrongly understood in the real world by majority of the movie buffs and general audiences. According to them, TRP/TVR is used by TV industry to measure the audience viewership from their side, but it is the vice versa. Advertising companies gathers the TV data insights to know how their brand reaching to the public and on which show we have to bid to publicize their products. Highest TRP rating Telugu movies till now are given on this page. Do check them to know more about the Telugu TV TRP ratings.
Unstoppable with NBK 2nd Season Update
Highest TRP Ratings of Telugu Movies Till Now
On the other side, some of the industry professionals used to highlight that TRP is used to measure the popularity of an program/channel and TVR is used by advertisers but both are same in the end. We all know, there are more than 10 Telugu TV channels popular in India to find the most widely watched television program on Telugu TV channels and fix an ad rate for the program, they use TVR/ TRP terminology. All Time Highest TRP Ratings of Telugu Movies in Tollywood film industry and the data insights of BARC available on this page. So, check them to know the popularity of tv channels, their trends, data insights and much more.
All Time Highest TRP Ratings of Telugu Movies
| Sl.No | Movie Name | TRP Rating |
| --- | --- | --- |
| 1. | Ala Vaikuntapuramlo | 29.4 |
| 2. | Sarileru Neekevvaru | 23.04 |
| 3. | Baahubali Part 2 | 22.7 |
| 4. | Pushpa Part 1 | 22.54 |
| 5. | Srimanthudu | 22.54 |
| 6. | Magadheera | 22.10 |
| 7. | Allu Arjun's DJ | 21.7 |
| 8. | Baahubali Part 1 | 21.54 |
| 9. | Fidaa | 21.31 |
| 10. | Geetha Govindham | 20.82 |
| 11. | Janatha Garage | 20.69 |
| 12. | Mahanati | 20.20 |
| 13. | SVSC | 20.10 |
| 14. | Rangasthalam | 19.50 |
| 15. | Attarintiki Daredi | 19.40 |
| 16. | Vakeel Saab | 19.12 |
| 17. | ROBO‬ | 19.04 |
| 18. | Bichagadu | 18.76 |
| 19. | Gabbar Singh | 18.55 |
| 20. | Uppena | 18.50 |
| 21. | Drishyam | 18.12 |
| 22. | Eega | 18.06 |
| 23. | Race Gurram | 18.01 |
| 24. | Love Story | 16.04 |
| 25. | Kabali | 14.52 |
| 26. | Banaggarju | 14.07 |
| 27. | ASVR | 13.70 |
| 28. | Akhanda | 13.31 |
| 29 | Kona Polam | 12.34 |
| 30. | DJ Tillu | 10.83 |